Chin augmentation (genioplasty)
Chin augmentation (genioplasty)
The chin is one of the most important facial features and it affects the entire facial appearance. The chin, which should be proportional to the rest of one's facial features, is in close proportion to the nose. A normal nose can seem bigger, when the chin is too small. Additionally, the chin should also be proportional to one's neck. If the chin is small, it creates an obtuse angle with the neck eliminating the distinction between them and making it seem like they have no particular features.
In chin augmentation surgery, an implant is inserted into the chin through an incision made inside the mouth or under the chin of the patient. Depending on the case, chin augmentation can also be achieved by using body fat collected through liposuction.
In many cases, when both a patient's nose and chin need to be corrected, a profiloplasty is recommended in order to achieve the best possible result in one session.
Brief description of the procedure
This procedure requires either local or general anesthesia. After choosing the most appropriate incision (inside the mouth or under the chin), a pocket is created and the implant is inserted inside it. Then, the symmetry of the chin is examined and, finally, the incision is closed. If a patient's nose is very big and hence disproportionate to his or her small chin, Dr. Varnalidis performs a profiloplasty, after taking into account certain parameters, in order to improve the patient's entire facial appearance.
Dr. Varnalidis specializes in face cosmetic surgery using the latest techniques in order to achieve a permanent and natural result and in certain cases he uses adipose tissue from the patient's own body in chin augmentation surgery.
Safeguarding your health is my number one priority.
Dr. Varnalidis always discusses and explains each procedure step by step. He also offers extensive post-surgery advice and is here to answer any question you might have, so that a smooth recovery and the best functional and aesthetic outcome are achieved.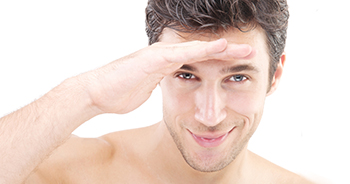 Anesthesia
Local or general anesthesia
Duration of the procedure
1–2.5 hours
Stay at the clinic
Usually one day, if general anesthesia was required
Not necessary, if the procedure only required local anesthesia
Necessary period before returning to everyday activities
5–7 days to go back to work
2–3 weeks to go to the gym
Final result
3–4 months after the procedure